It is SO nice to be in late September now and some cooler weather. Us Arizonan's finally come out of our summer hibernation be it we were trapped indoors or away to escape the summer heat, but now we can open things back up and truly enjoy why we live in this magical place.
Isabel and I are suffering from Italy withdrawal as we are normally in Italy on our Candelaria Design Tour Italy this time of the month. Given Isabel's battle we are taking this year off but we have nearly SOLD OUT our 2018 tour which will feature our base trip of Florence and Umbria but we will finish in Venice and will also offer a bonus trip extension to Lake Como and the Villa d'Este where we will celebrate our 5 year anniversary at the very spot we tied the knot. You can do the entire trip or just join us for the last three days in Lake Como. Don't wait because I think the base trip is sold out but we have room for the Lake Como portion. http://www.candelariadesign.com/tour-italy
One final note - We have an amazing event coming on October 12th where we will be co-hosting a celebration kicking off the fall season with Scottsdale Modern Luxury Magazine https://modernluxury.com/modern-luxury-scottsdale/digital-edition promoting their grand opening of Galleria of Stone http://www.galleriaofstoneaz.com right there in their off the chart warehouse! I was also honored to be featured in the Scottsdale Modern Man article – pick up a copy for sure and come on out to this fun Venetian masquerade evening where we will be making pasta live in the stone slab wherehouse, in the midst of fabulous Italian sports cars, fashion from Italy, with plenty to eat and drink. You can order your Candelaria Living pasta maker for your favorite foodie right here or at the event:
Ok given our Italy withdrawals we were able to escape for a little five-day jaunt to one of our favorite places, Santa Fe, New Mexico. This place is special to both Isabel and I as she was born just north of Santa Fe in Española, New Mexico and my ancestors from Spain were one of the first families to settle in the Albuquerque, New Mexico in 1690 and in fact a major boulevard in Albuquerque is Candelaria Road. We will be adding a Candelaria Design Tour Santa Fe next summer which will feature a five day escape to this lovely destination and will include architecture, art, cuisine and spa with day trips to some of the nearby sights. Stay tuned for more details.
Santa Fe is for the most part frozen in time. It cannot grow due to limited water supply and the architectural controls are quite strict so not much ever changes at least in the 45 years I have been coming here. Nonetheless, it is beautiful, charming and for a one hour flight and an hour drive up from Albuquerque you actually feel like you have taken a trip to a foreign country. In addition to the lovely architecture and plethora of art galleries, the food in this town is off the charts and it does not just include New Mexican cuisine, although that is nothing to miss either. So this definitely quenched our thirst for some travel.
This trip we rented a beautiful three-bedroom, two kitchen/living room adobe on Artists Road. So cozy and charming and definitely in the character and layout we are used to on our Tour Italy time in Umbria. For our tour we are scouting a three house compound with a courtyard where we can do morning yoga, exercise, massages and evening cooking classes…..get the picture!
So of course anyone who has traveled with me knows I love to go explore with the corner of my eye always on the look out for fabulous dining venues be them casual or formal. This trip has not disappointed. With the help of Isabel's cousin Jarred Conley who lives here in Santa Fe, he turned us onto some fantastic dining venues for this trip and for our tour. You cannot start a trip to Santa Fe without experiencing the authentic New Mexican cuisine at The Shed https://sfshed.com/ This is always a first stop for us. Delicious enchiladas with red and green chili and a cold cerveza. The prefect fix to get the trip started.
Our next morning we enjoyed some home cooking in our kitchen and then it was off to the Plaza to do a little sightseeing and enjoy the architecture and of course a little shopping. One of our favorite stops to Mediterrania Antiques http://www.mediterraniaantiques.com/ run by our old friend Marc Galante who used to have a showroom in Scottsdale. Beautiful items from Spain, Italy, Portugal and France adorn this showroom right in the heart of Santa Fe and Marc has fantastic stories to go with each authentic item.
We couldn't go too long until we needed lunch and another of our favorites is dining in the courtyard at La Casa Sena http://lacasasena.com/. What a fabulous and relaxing setting under a giant cottonwood tree enjoying the fall breeze and a delicious light lunch with good friends and Isabel's cousin Jarred who joined us.
More shopping and sight seeing and then back to the casa for a siesta. With some rejuvenation it was off for tapas at La Boca http://www.labocasantafe.com/. Ok this saved a 12 hour flight to Spain! Fantastic menu and wine list and the tapas were off the chart especially the chicken liver pate and the caramel and salt flat iron steak. A little more shopping and enjoying the fabulous fall temperatures and we called it a day.
The next day was Saturday and it was time to do some art gallery hopping and there is no better spot than Canyon Road. Wandering from gallery to gallery and artist to artist with the smells of fall and the hint of piñon smoke in the air it is easy to lose track of time and get mesmerized by it all – great way to relax, unwind and get inspired.
To finish off our day on Canyon Road we reserved dinner at one of the best restaurants I have ever been to. . . and I have been to some good ones, Geronimo on Canyon Road. http://www.geronimorestaurant.com/ Voted one of the top 100 restaurants by Open Table I could not agree more – I would put it in the top 10. We all tried a different started and entre and we were not disappointed. I started with a leek and white asparagus bisque served over a buttermilk biscuit with jumbo lump crab. Amazing. Then I topped it off with the elk tenderloin. Spectacular. Service impeccable. Setting is very quaint yet sophisticated and the space is broken into small rooms line with dreamy curtains so the acoustics are perfect. A heavy thunderstorm pelted the roof with rain only interrupted now and then with a clap of thunder. Romantic and memorable. I most definitely recommend Geronimo for sure.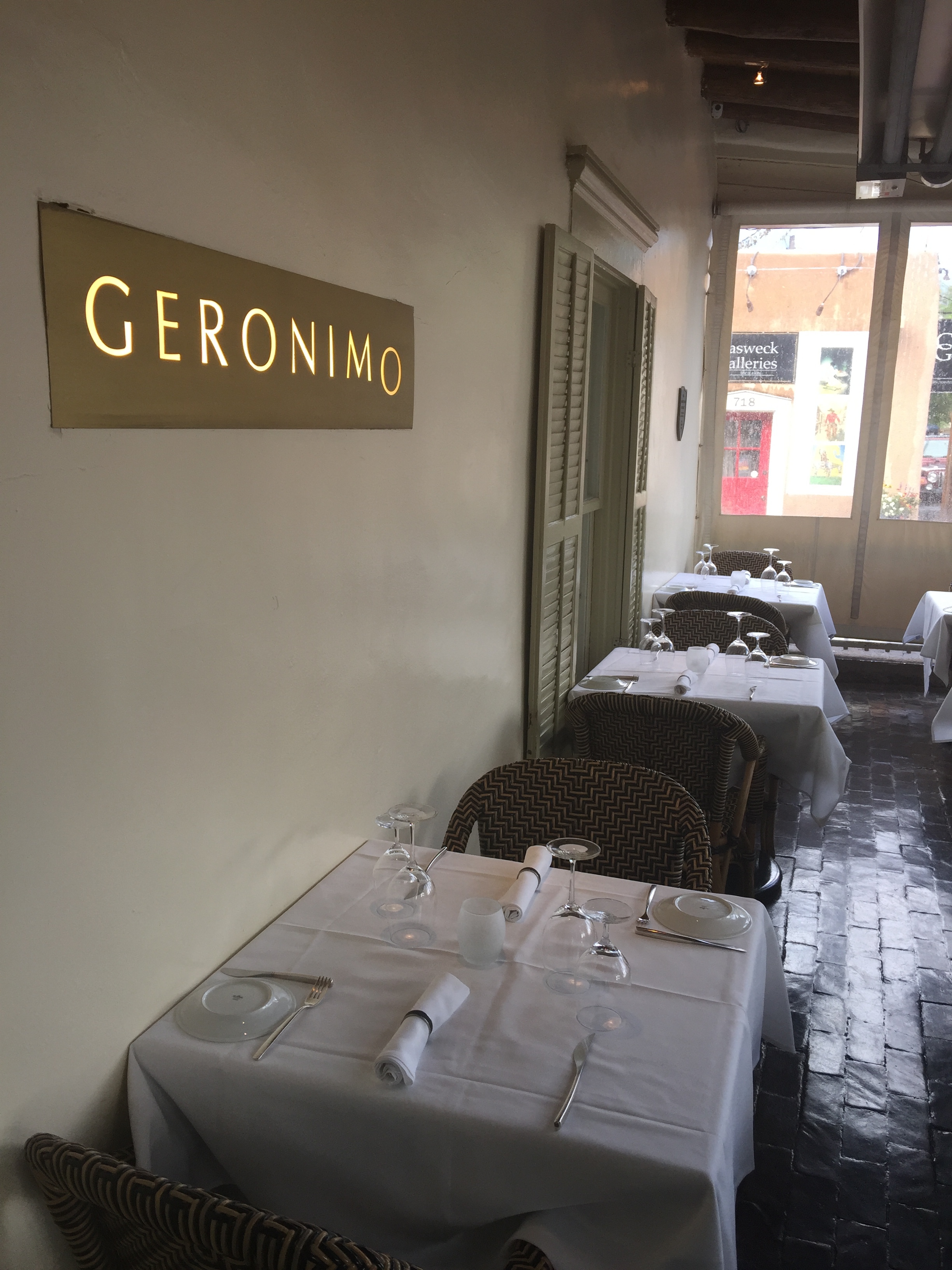 The storms passed and Sunday morning we all slept in. We awoke to brilliant sunshine and fresh cool air. Relaxing with a cup of coffee and catching up on emails and then the troops rallied and we were off to the famous Plaza Café for breakfast https://www.plazacafesantafe.com/ . Of course, my favorite Sunday breakfast dish in New Mexico is a big bowl of beef tripe menudo with red chili and freshly made flour tortillas just like my Grandma Rose use to make. Some of our travelers had the enchiladas with eggs and others chili relleños with eggs. Spot on. A little more sightseeing and shopping and then it was back to our casa for a power nap and this afternoon we are off to the mountains above Santa Fe and Chimayo for guess what… more New Mexican food at Rancho de Chimayo - http://www.ranchodechimayo.com/.
Back to the gym next week!
Update on Isabel
Isabel has now completed 11 chemo treatments and has the tough five treatments to go. She continues to stay positive and strong and I have a tough time keeping up with her which I am most thankful for. This has been quite the experience but it has reinforced our belief of living each day to the fullest no matter your situation or condition and never complain. There are obvious and hidden joys everywhere you look and its important to keep your focus on these aspects of your existence and time. It makes all the difference.
Your thoughts, prayers, meals, flowers, plants, books, cakes and cupcakes are all so wonderful and remind us of how blessed we are to have the wealth of good friends who offer so much love and happiness in our lives.
You can read more on Isabel's Caring Bridge https://www.caringbridge.org/visit/isabelcandelaria
Today is the only day that matters.