Ok, I know its September, but those of us who live in the Arizona desert know there is not a lot of difference between August and September….it's just another month of summer. Not until Halloween are we officially done with the potential for 100º temps. Yes, we are watching football and we are tempted to plant geraniums but don't get fooled.
I am looking forward to fall though, and being able to open everything up, driving with the sun roof open, and wearing fall sweaters, sport coats, and of course cooking!
This week we celebrated our 18th year of Candelaria Design! From that first year with just me and my two dogs, Lulu and Nacho to our 15 person firm now we have come a long way and it's been quite the ride! More on that in a bit….
Plenty going on here at Candelaria Design. In addition to the three homes we had featured in August in the national publication, Elegant Homes Magazine we have another featured this month in Country French Magazine. This Candelaria Design ~ DeCesare Design ~ Berghoff Design collaboration features a beautiful home masterfully built by Schultz Development http://www.schultzdevelopment.org for none other than himself and his lovely wife, Denise. We will be featuring more of this home this Fall in one of our episodes of SKETCH on
So being it's Labor Day I thought I would tribute this blog to those who make Candelaria Design go! My amazing Team! First and foremost, I love these guys and all they do to always improve and grow. As I mentioned we just celebrated our 18th anniversary on August 29th and my team gave me a nice celebration on Friday. So this blog is dedicated to my team!
First, my partner, Vivian Ayala, has been with me nearly 18 years as has my associate, Jeff Kramer. These two have been there during the good times and through the tough times. Add Evelyn Jung to this mix who has been with me 12 plus years and runs the business operations. They get it. It's not about what can you do for me, its about what can we do as a team. I rely on them for their hard work, their caring attitude, their talent, but most importantly their friendship.
Then let's add Tim Mathewson, Meredith Thomson and Damon Wake who are my Team Directors and do a fantastic job not only with their projects but managing, mentoring and inspiring their teams. It has been so rewarding to watch them grow and mature into strong members of our team.
The next wave includes our Project Managers and Job Captains which include Mathew Grove, Hector Medina, Tyler Bulriss, Peter Ekema, Rebecca Struchen, Samar Kattan and our newest addition Jochen Walther. Let's not forget our intern, Jake Ernst and of course our Director of First Impressions, Caitlin Cunningham who runs our front desk and does so much for all of us. This whole crew keeps the train moving working many times late into the night and sometimes into the early morning hours to get the job done.
What a great team! Let's see…. Did I forget anyone???? Oh wait, my assistant, Stacey Payne!!!! I could not function without her. We start our days around 4am with texts to each other working out the details of the coming day and that continues many times until 10pm at night, including weekends many times. Not only does she manage things at the office but she keeps track of my personal affairs too and trust me, many times that's more of a job than her tasks at the office. I am most grateful for all she does every day to keep me moving.
So, what is the common thread with all the members of my team? They have a passion for what they do and they all think Team First. We all work hard but we also all have fun together. They respect each other and they are kind to each other. It's a wonderful family and I am so proud of all of them. Happy Labor Day to you all.
Of course, there is always some time to get some cooking in – especially over a three day weekend. This weekend we went with grilled and sliced ribeyes over arugla, then Saturday we went with grilled halibut then bathed in tomatoes, fennel, onions, capers and white wine and last night we made a herb cursted leg of lamb with a mint and Hatch green chile sauce. All to be posted over time.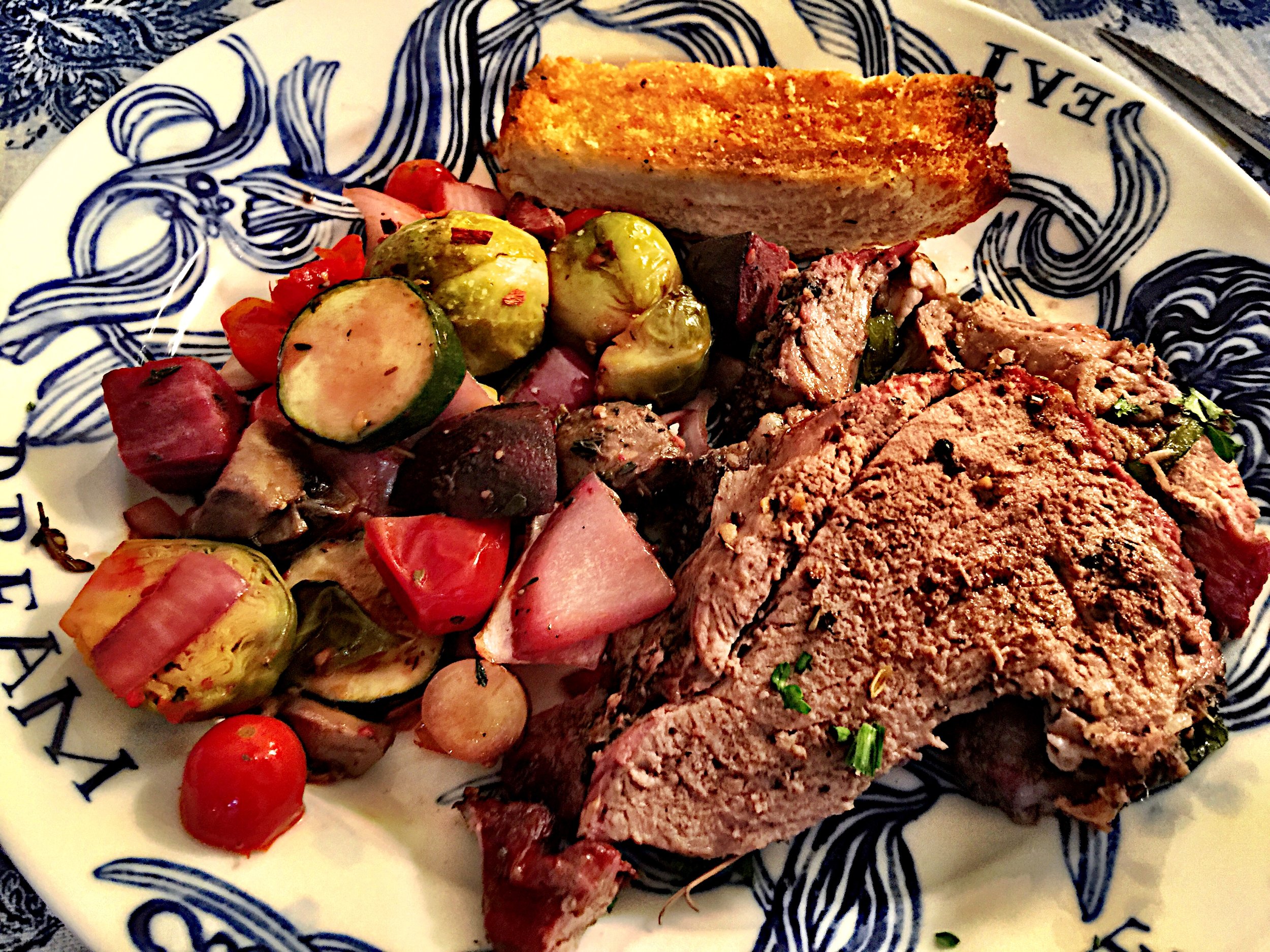 MC's Limoncello Cream Pie
So what about another dessert to finish off the summer??? Plenty have been asking for my Limoncello Cheesecake Pie. So here we go:
Let's start with the crust. I like to but a box of triple chocolate biscotti's from AJ's and grind them up in the food processor – you want about 200 grams of crumbs. While grinding the crumbs, melt about ¾ of a small stick of butter. Pour the butter into the crumb mixture and then work the mixture into the pie pan bottom to form your crust. Refrigerate the pie pan crust for about 15 to 10 minutes so it all firms up.
While the crust is in the refrigerator, make the pie filling. Using the mixer, whip the mascarpone, sour cream, sugar, eggs, lemon zest, lemon juice, limoncello, salt, vanilla until all well mixed and smooth.
Pour over the pie crust and then back in a 325º oven for 40 minutes or just to the point where the sides of the filling start to brown. Then remove from the oven and set on a cooling rack and let cool. Once cool, set in the fridge to cool and set for about 4-5 hours.
To serve, cut into pie wedges and using a pie server, place on a dessert plate, top with vanilla or lemon whip cream, add a lime wedge and serve.
MC's Limoncello Cream Pie
Crust –
One box 200 grams of Triple Chocolate Biscotti
¾ small stick of butter – appro. 90 grams
Filling –
8 oz. Marscapone Italian Cream Cheese
1 cup of sour cream
3 eggs
¼ cup of lemon juice
2 table spoons of Limoncello
1-1/4 cup sugar
1 teaspoon of finely grated lemon zest
½ teaspoon of vanilla extract
a pinch of salt
Enjoy!
Update on Isabel
Isabel has reached her halfway point on her chemo treatments. Eight completed and eight to go. We both share the same hair style now so it doesn't take either of us long to get ready. She has some cute and wild wigs so she is having fun with her different looks. She is amazing and so positive and so strong and keeps it going. Thanks to all of your thoughts, prayers, meals, flowers, books, wow! It has made such a difference to both of us to know we have all of your support.
A special thanks to Jennifer Gage and those who came to her treatment with a little surprise party last Wednesday. She loved it.
You can read more on Isabel's Caring Bridge https://www.caringbridge.org/visit/isabelcandelaria
On to the second half – the tough half.